Wireless Handswitch
The wireless handswitch allows remote start/stop of the Polaris timer as well as controlling a few other event-specific features.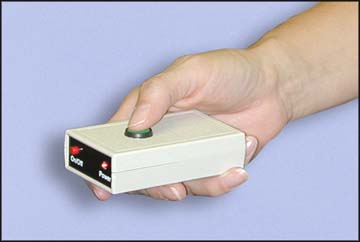 For Ranch Sorting events, the pen judge can use the handswitch to record the time that each cow is penned. Times can now be recorded on the official timer and displayed on a scoreboard (if used) instead of using a separate stop watch ("lap timer") for this purpose. Note: The Ranch Sorting version of the handswitch has an external antenna not shown in the picture.
For Cutting or Team Penning events, the start line flagger can use the wireless handswitch to start the timer. Give the pen judge a handswitch to remotely stop the timer when team penning. This improves accuracy over flagging the lines.
For Roping events, the arena judge on horseback can stop the ropers' time directly. This saves the timekeeper from having to closely watch the judge's flag to stop the timer.
If hand-timing a roping, the Average Time mode of the Polaris timer will average the hand-times of two timekeepers. One or both of the hand-times can be started and stopped with the wireless handswitch
For Show Jumping events, the wireless handswitch can be used to remotely stop and start the timer when timing must be stopped for a dislodged jump. Two bursts of the horn are sounded when the time is stopped, one burst of the horn is sounded when timing is restarted. If required, the restart horn can be sounded on the first press and time restarted on a second press.
For bull riding and rough stock events, the remote handswitch can be given to an operator who is in better view of the release gate for starting the timer.
When used with our Speed Training system, the handswitch can be used to manually start or stop the timer, or to control arming of the timer to give the coach more control over timer activity in crowded situations.
For dog agility trials, the remote handswitch can be be used to manually start or stop the timer for gaming classes. The handswitch can also be used to control the "table timer" countdown. This is an automated table count with an accurate cadence that is spoken through your sound system.
Ordering Information
If you are using the handswitch for Ranch Sorting events, be sure to order the Ranch Sorting version of the handswitch. Both versions of the handswitch can provide all handswitch functions, however, the ranch sort version is optimized for ranch sorting events and the regular version is optimized for general start/stop operation.
Wireless Handswitch

The wireless handswitch can be used to remotely start and/or stop the timer instead of using the start/stop button on the Polaris console.

$125

Ranch Sorting Handswitch

The wireless handswitch for ranch sorting is used by the pen judge to mark the time that each cow is sorted.

$125