Timing Systems for Western Riding Events
If you have recently attended a barrel race, rodeo, roping, team penning, ranch sorting or cutting, there's a good chance that one of our timing systems was in use. All of our systems offer the convenience of wireless operation. With no cables to run to the electric eyes and no power connections to the timing console or the electric eyes, system set-up and tear down is quick and easy.
To help determine the best equipment for your needs, look at the events listed below and click the check box to the left each event for which you will use the timer. The recommended equipment will be displayed below.
Scroll down (if needed) to see the recommended equipment based on your selections.
Ordering Information
To help determine the best equipment for your needs, look at the events listed above and click the check box next to each event for which you will use a timer. The recommended systems will be displayed here.
Popular Options
Wireless Scoreboard Interface

With the wireless scoreboard interface, you do not have to run the data cable from the Polaris console to the scoreboard. The scoreboard still requires AC power.

$175

External Horn

If you are not able to connect to a sound system for sounding the horn or other tones, the external horn can be connected to your timer instead. The horn is very loud and requires no additional amplification.

$149

Wireless Handswitch

The wireless handswitch can be used to remotely start and/or stop the timer instead of using the start/stop button on the Polaris console. Giving the field judge or flagger a wireless handswitch can improve timing accuracy by eliminating one person in the flagger-timekeeper chain.

$125

Computer Interface Cable

The computer interface cable provides a connection between the Polaris timer console and a serial or USB port on a computer for record keeping. Includes a free 30-day trial of our Timer Interface Software. Event-management software packages from third parties are listed here.
Note: If you are running RSNC or other horn-handicapped sorting event, a different cable may be required. Please call us before ordering.

$25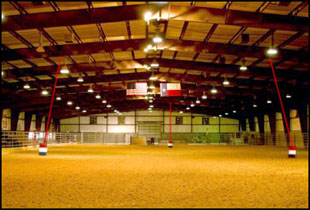 Laser Stakes
Instead of marking barrel, pole and electric eye positions with stakes driven into the ground, Laser Stakes mount in the ceiling of your arena to mark positions with a beam of light. With no stakes in the ground to avoid, arena drags are much quicker and more effective.
For more information, visit the Laser Stakes website or give us a call at 800-755-6529.